2023
Carolyn Halliday
Embracing the sometimes denigrated term, "fiber artist", Carolyn Halliday's art is grounded in the use of textiles. Knitting wire is a favorite material and technique. Deeply connected to nature and influenced by two biologists/ecologists in her family, Carolyn's work references the natural world and our environment.
Carolyn plans to present an immersive environment of installation art in the Kolman & Reeb Gallery related to climate change. The work will consist of 4-5 site specific knit wire installations that reference the sky and pollution. During the pandemic quarantine Carolyn noticed the reduction of air pollution and increased sky visibility on her daily walks along the nature paths near her home in urban Minneapolis. These walks are part of her art practice as she observes nature because she has realized that the natural forms she sees inform her sense of line and pattern. She was dazzled by the clarity of the blue in the sky due to less automobile use. Research supported her observations, documenting that the lessened use of automobiles dramatically changed air quality during the pandemic. In keeping with her work relating to ecology and nature, she has wanted to highlight the positives of reduced fossil fuel use. The Project Space Grant will give her the opportunity to further explore these ideas.
Carolyn has been showing her work for over two decades both nationally and internationally. Her work is in the collection of the Minnesota Historical Society and in the Weisman Art Museum. In spring of 2014, she was the featured visual artist for an episode of Twin Cities Public Television's production of Minnesota Original. And she was one of the showcased artists in the 2006 TPT production of the Textile Center's Artwear in Motion Runway Show.
Carolyn has also earned a variety of awards. She was a 2013 fiscal year recipient of a Minnesota State Arts Board Artist Initiative Grant. In 2015 she was appointed the first member and Chair of the National Artists Advisory Council for the Textile Center: A National Center for Fiber Art in Minneapolis. In 2020 she received the Textile Center's Spun Gold Award for a lifetime commitment to textile art and to the Textile Center.
Carolyn is a featured artist in the books: Sculpture, Artistry in Fiber, Volume 2, The Language of Making, Visual Voices from the Textile Study Group of New York, Knitting Art: 150 Innovative Works from 18 Contemporary Artists, and How to Be a Feminist Artist: Investigations from the Women's Art Institute. Her work has also appeared in Surface Design Journal, Interweave Knits, and Jacquard, a publication of the Fondazione Arte della Seta Lisio in Italy.
Kolman & Reeb Gallery will host Carolyn's Project Space exhibition March 30 through May 11, 2024.
Annie Hejny
Acknowledging that all humans are bodies of water and are connected by water, is the primary message of abstract painter, Annie Hejny's artistic practice. She creates textured acrylic paintings with respectfully collected water and sediment from significant freshwater sources. Each of her paintings is a call to tell the water stories in our communities.
With her Project Space grant, Annie will create a multimedia exhibition of paintings, video, audio, and storytelling that celebrates water and inspires climate consciousness. Annie will begin this project by researching and traveling the circumference of Lake Superior, documenting through video the natural landscapes while collecting water and sediment to create six large-scale, site-specific paintings. Culminating with an exhibition at Kolman & Reeb Gallery wherein abstracted videography is projected among the paintings, viewers will be transported to the shorelines of Minnesota, Wisconsin, Michigan, and Ontario, while a written storytelling component depicting Annie's travels will strengthen the narrative and sense of place.
Annie has exhibited in numerous regional venues such as the Katherine Nash Gallery at the University of Minnesota, University of St. Thomas in St. Paul, Minnesota; Minnesota Marine Art Museum in Winona, Minnesota; and Chicago's salonlb Gallery. Her artwork is held in many private and public art collections including the Minnesota Museum of American Art, Minnesota Vikings Art Collection, Target Corporation, Hilton Corporation, and Minnesota Marine Art Museum.
She was an artist-in-residence with Lanesboro Arts in Lanesboro, Minnesota; the Science Museum of Minnesota Pine Needles Residency, Grand Marais Art Colony in Grand Marais, Minnesota; and the Anderson Center at Tower View, Minnesota. Annie has also been a recipient of the Minnesota State Arts Board Artist Initiative Grant. She is a certified Nature and Forest Therapy Guide, and for 2023 will become a certified Minnesota Water Steward with the Freshwater and the Mississippi Watershed Management Organization.
Kolman & Reeb Gallery will host Annie's Project Space exhibition September 14 through October 26, 2024.
Cheryl LeClair-Sommer
Cheryl LeClair-Sommer proposes to paint landscapes inspired by the scent of perfumes. She will travel to Minnesota locations such as prairies, boreal forests, and backwaters, to create plein air (outdoor) studies in oils. The studies, along with compositional drawings and color studies, will be developed into 10-15 large-scale oil paintings additionally applying underpainting or glazing techniques. The studies and large-scale paintings will be exhibited during her capstone exhibition at Kolman & Reeb Gallery to demonstrate the artistic intent.
The fragrances associated with the landscape locations, which themselves communicate a story to inspire the creation of each artwork, will be available in spray or blotter form for viewers to smell during Cheryl's show. This pairing of visual and olfactory stimuli will deeply immerse the viewer into the environment of the painting to elicit an emotional response.
The inspiration for this project is Cheryl's experiences while painting outdoors, immersed 2-3 hours at a time surrounded within nature's setting. These encounters include scents that become part of her artistic experiences. Using a fragrance made from natural ingredients will push her creativity rather than merely recording a scene.
Cheryl's ongoing efforts as an artist have resulted in recognition with paintings regularly juried into national exhibits, multiple awards at outdoor painting competitions, and an award of Master Circle Designation from the International Association of Pastel Societies, an award of a two-week residency, and a feature on Twin Cities Public Television's, show MN Original.
Cheryl lives and works in a home studio in a suburb of St. Paul, Minnesota. She also paints in western Minnesota after purchasing a farmhouse and renovating a shed studio. Cheryl can be found throughout Minnesota, the Upper Peninsula of Michigan, the upper Midwest, and the Tahoe area painting landscapes outdoors. During inclement weather, she can be found in her studio inspired by still life, figurative works, and other subject matter.
Cheryl is a member of many art organizations including Outdoor Painters of Minnesota, Oil Painters of America, and the Lake Country Pastel Society, for which she served as President and as a long-time board member.
Kolman & Reeb Gallery will host Cheryl's Project Space exhibition February 10 through March 23, 2024.
Holly Streekstra
Holly Streekstra's artistic investigation involves raising questions about our relationship to wonder, our desire for mystery and enchantment, the primacy of vision and the interrelation of human consciousness. Her conceptual based artwork takes many different forms and modes of expression, including installation art, site based work, performance, and sculpture. The Project Space grant will allow Holly to enhance these practices by focusing on creating a new 2-dimensional visual vocabulary. Streekstra will process publicly owned data from the James Webb Space Telescope to create encaustic artworks in which the wax will depict planetary atmospheres and space clouds. These 2D works will be accompanied by a 3D installation that responds to the process of creating space images. Developing skills in encaustic techniques and image making is a recent divergence from my usual practice.
Holly has participated in group exhibitions and residencies in the United States and abroad. Her work has been shown at SooVAC in Minneapolis, the Minnesota Museum of American Art, Franconia Sculpture Park in Minnesota, DeVos Art Museum in Michigan, The Invisible Dog Art Center in Brooklyn, New York; and the Good Children Gallery in New Orleans. In 2016, she was awarded a Jerome Fellowships for Early Career Artists and in 2013, she was a Fine Arts Fulbright Teaching Scholar in Hungary.
Kolman & Reeb Gallery will host Holly's Project Space exhibition July 27 through September 7, 2024.
2022
Kate Casanova
Kate Casanova has long been fascinated with the paradoxical relationship we have with our bodies. We know our bodies intimately and yet they are utterly mysterious. Even as science explains more and more about how we function, these processes remain largely invisible inside oneself. Casanova will use her Project Space Grant to create an exhibition of abstract sculptures that explore this paradoxical experience of being a body. Through her sculptures, she will explore the following questions: Is the human body a single organism or an ecosystem? Do I begin and end at my skin? What am I?
Kate has exhibited nationally and internationally at venues such as the Black Cube Nomadic Museum (Denver), the Weisman Art Museum (Minneapolis) and Doug Aitken's Station to Station, an exhibition that traveled by train from New York to California. She is represented by Yi Gallery (Brooklyn) and Maita Sayo Gallery (Toronto). Kate received a Master's of Fine Arts from the University of Minnesota in 2013 and a Bachelor's of Fine Arts from the Minneapolis College of Art & Design in 2008. She is an Assistant Professor of Sculpture at the University of Denver.
Kolman & Reeb Gallery will host Kate's Project Space exhibition June 8 through August 10, 2024.
Jil Evans
Kolman & Reeb Gallery will take patrons on an immersive exploration of light and shadow with its next Project Space grantee exhibition, Light Tales, by internationally known Minnesota artist, Jil Evans. With her dynamic and energetic style, Jil captures the essence of Minnesota's seasons using video, a new medium for her, through light and shadow to reflect the inner experiences of our minds. By using the gallery space in a unique and captivating way, this show is sure to impress the contemporary and abstract audience the gallery appeals to most.
For over four decades, Jil has used her visual vocabulary to explore abstraction. Through her project space grant, she examines how light dances to mesmerize; how in solid form, it can stop movement with a sudden jolt; or how it travels in gentle, rhythmic waves to narrate a foreboding story. Evans' immersive experience displays light as it takes us to the limitless possibilities of infinity and then back to the microcosmic constraints of our imagination. From awestruck to heartbroken, light is the medium Jil uses to translate her inner realm of consciousness to the viewer.
Evans' artwork has been exhibited nationally and internationally. Her work is held in both private and public collections, including the Minneapolis Institute of Art and Walker Art Center. Evans has also participated in residencies and was a featured painter in the documentary film, Painting the Place Between.
Kolman & Reeb Gallery will host Jil's Project Space exhibition June 17 through August 19, 2023.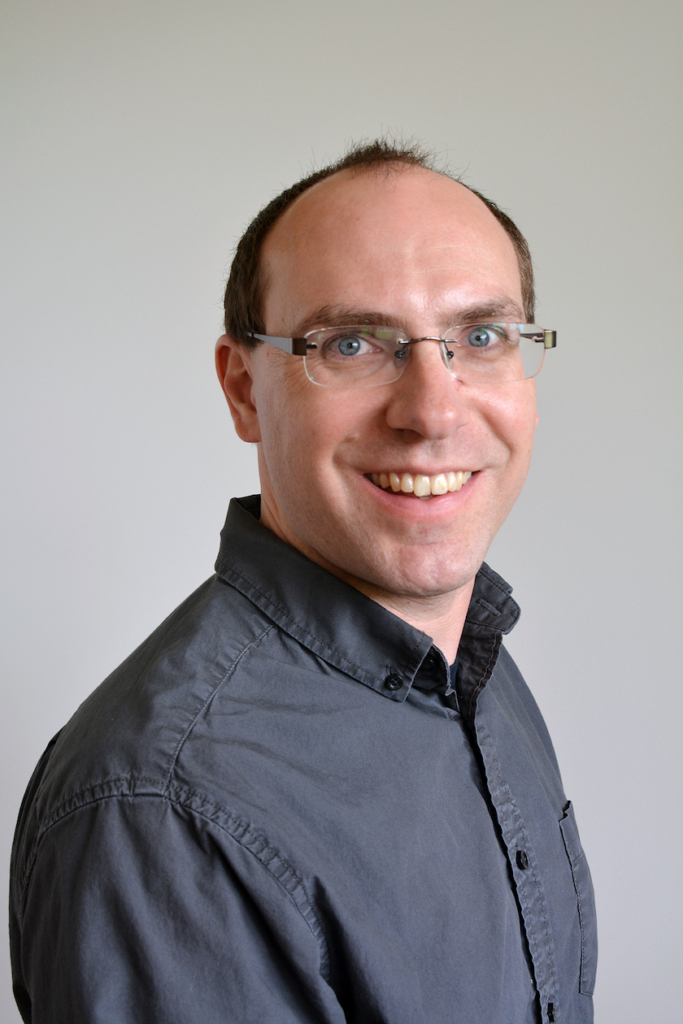 Chris Rackley
Chris Rackley, known for his miniature replicas of the stockroom and shoe store where his father worked, is using his Project Space grant to create a new series of 10 dioramas based on his "memory and research of the shopping mall where I grew up," he wrote in his proposal. The free-standing dioramas "will explore how my personal narrative of childhood solitude intersects with larger cultural narratives of excess, abundance, and independence associated with the visual endlessness of the shopping mall. This shift will allow me to investigate the relationship between spectacle and intimacy by combining the miniature and the cinematic." The project will also include an interactive video installation using green-screen technology. 
Chris's work has been exhibited at Rochester Art Center, Minnesota; DeVos Art Museum, Michigan; Boston Cyberarts, Massachusetts; Open Space Gallery, Maryland; Artisphere, Virginia; and Transformer, Washington DC; and other art spaces regionally and nationally. His collaborative work has been shown at Badischer Kunstverein, Germany; Art Museum of the Americas, Washington, DC; and Mair Museum of Art, Virginia.
Rackley earned a Bachelor of Arts from Davidson College and an Master's of Fine Art from George Mason University. Rackley was an adjunct professor at Winona State University before earning an Artist Initiative grant from the Minnesota State Arts Board and an Art(ists) On the Verge Fellowship in the same year, allowing him to begin working full-time in his studio. Rackley served on the Board of Directors for the Rochester Art Center in Minnesota and currently serves on the Davidson Arts and Creative Engagement Advisory Board for Davidson College in North Carolina. He currently lives and works in Rochester, Minnesota.
Kolman & Reeb Gallery will host Chris' Project Space exhibition August 27 through October 21, 2023.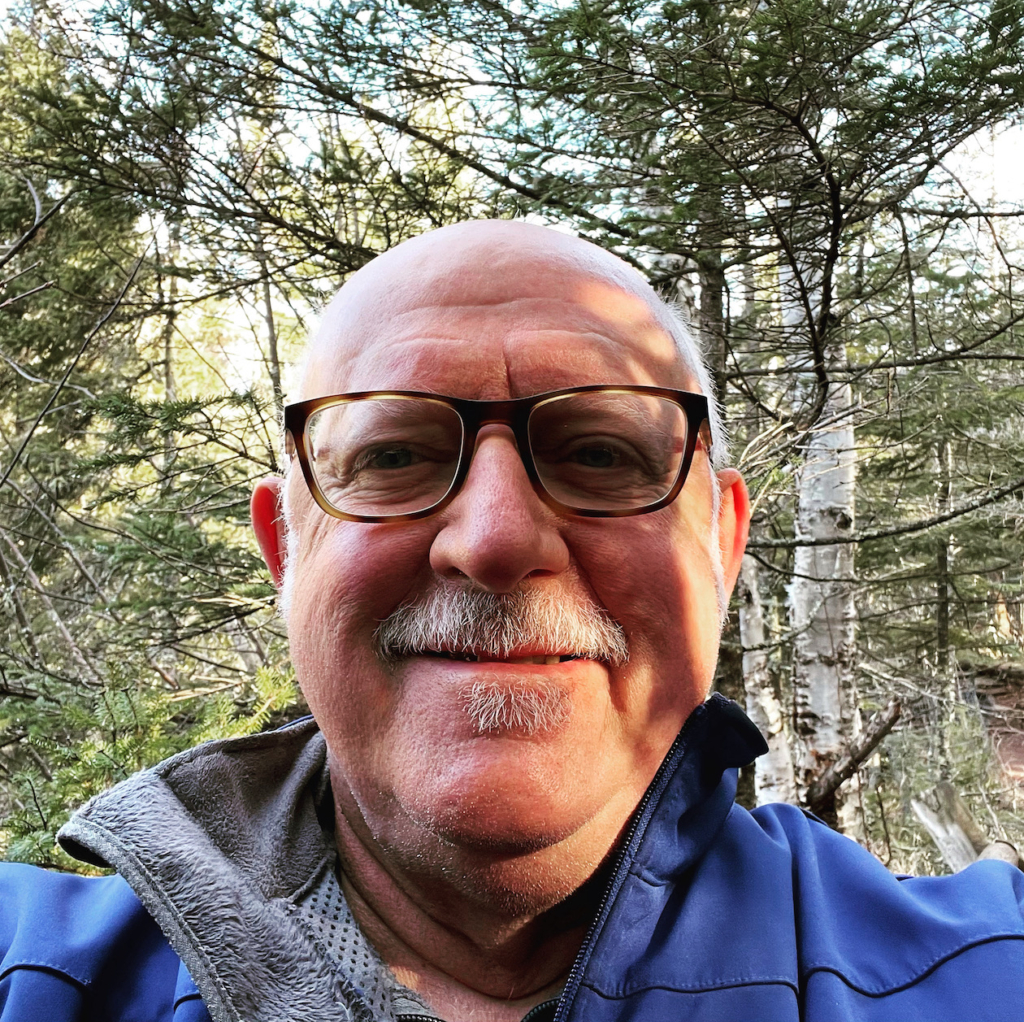 Cameron Zebrun
Cameron Zebrun is best known for elegant sculptures formed from thin layers of wood on which he paints, and collages abstractions based on his direct observations and experiences in nature. Thus, Cameron's used the funds from his Project Space grant to travel to inspiring new locations in Banff and Olympic National Park and areas along the Canadian Rockies and the northern US West Coast.
"I spent a lot of time documenting my experiences through sketches and photography," he says. These fresh perspectives ignited Cameron's ever-evolving fascination with portraying landscape subject matter in surprising and non-traditional ways, giving life to his show, Currents. These new places gave Cameron new viewpoints for his sculptures and inspired photographic collages and video animation specific to this show. "The small collages bridge my sculptural and photographic work," Cameron says. "For this exhibition, I've experimented with different forms and media to manifest my ideas. The work reflects my obsessions over the last three years and represents a culmination of my aesthetic interests."
Cameron will create a gallery installation that will become a visual journal of his travel experiences. Although he creates art based in nature, "the work is far from traditional or sentimental. Instead, it presents a challenging and surprising way to consider landscape. Even as viewers look at the different media, they'll see my recognizable style while also sensing mystery and content open to interpretation."
Cameron is a sculptor and photographer who lives and works in Minneapolis. He has an extensive record of solo and group exhibitions nationally including Arts North International, Hopkins Center for the Arts in Hopkins, Minnesota; North of the 45th, DeVos Art Museum at Northern Michigan University; Pulse Art Fair in Miami Beach; Minnesota Landscape Arboretum, Scope Art Fair in Miami Beach and New York City; Katherine Nash Gallery, University of Minnesota; Minneapolis-St. Paul International Airport; and St. Mary's University of Minnesota.
Cameron has received three Minnesota State Artist Initiative Grants in 2005, 2015, and 2019. He has been an Artist in Residence at Grand Marias Artist Colony, Grand Maria, Minnesota and at the Petrified Forest National Park. He was a member of Form+Content Gallery in Minneapolis between 2009 and 2015.
From 1991 through 2017, Cameron was employed at the Walker Art Center as Director of Program Services. As part of Walker Art Center's team, Cameron managed the technical installation of all art works for the renovation of the Minneapolis Sculpture Garden which reopened in 2017. Also, during his time at the Walker, Cameron managed the technical installation of all exhibitions for Walker's Visual Arts Program.
Cameron earned a Master's Degree of Fine Art at Cranbrook Academy of Art and a Bachelor's Degree of Fine Art at Cleveland Institute of art.
Kolman & Reeb Gallery will host Cameron's Project Space exhibition January 14 through March 11, 2023.
2021
Betsy Ruth Byers
Betsy has systematically shifted the focus of her work to intentionally address climate change through visual representations of ice since her sabbatical research in 2017-2018 of glaciers in Glacier National Park. She is drawn specifically to disappearing glaciers for two reasons. One, glaciers are sensitive indicators to climate change due to their isolated nature. Two, the landscape of glaciers has historically been connected to the human experience of the sublime in nature and art.
The Project Space Grant has enabled Betsy to move from two-dimensional painting to installation-based work as she has developed a of a full-scale gallery installation inspired by glacial loss due to climate change. The exhibition. entitled, Scaffold, is a multi-sensory, multi-media manifestation of Betsy's alpine and equatorial glacial experiences and the global realities related to climate change.
For several years, Byers has accompanied scientists on trips to various glaciers, hiked the Aletsch Glacier in the Swiss Alps, and observed how glacier tourism now requires bridges and ladders to reach receding and melting glaciers.
"Many people's experiences of arctic, alpine, and tropical glaciers (often located on equatorial volcanoes) are through screens, and through the speed of social media," Betsy says. "In this exhibition, through which I've been processing my experiences, I hope to create contemplative, sensory spaces people can step into and come to an embodied understanding of what's happening in our world."
Betsy continues, "The work within Scaffold, is visually anchored in the aesthetic of survival gear—colors like bright orange and metallic reflectives—and the language of temporary solutions and adaptations." Elements include a survival tent, a soundscape created from heartbeats heard via a digital stethoscope, paintings, and an olfactory piece. "Smell is so connected to brain function. My goal is to create an interactive space that engages the senses and creates physical lasting memories of the exhibition."
Betsy also wants viewers to consider concepts such as time and change, the temporary, and ideas of survival. "The earth is reacting to climate change in survival mode, and we are slow to act. I hope to create a space in which people can contemplate this and let the elements of installation affect them physically."
Betsy chose to study art "because art classes challenged me more than anything else."  After earning a Bachelor of Arts degree with a major in studio art from St. Olaf College, she was awarded a Master of Fine Arts from the Minneapolis College of Art and Design. She shares her love and enthusiasm for making art with students as an Associate Professor at Gustavus Adolphus College. Her work has been exhibited at numerous venues both nationally and internationally, such as. PULSE Miami Beach 2019, SCOPE New York 2017, the Minnesota Museum of American Art in St. Paul, DeVos Art Museum at Northern Michigan University, Hillstrom Museum of Art at Gustavus Adolphus College, Intermedia Arts in Minneapolis, Guilford Art Center in Guilford, Connecticut; The Soap Factory in Minneapolis, The Institute Gallery in Sogndal, Norway; and the National Galleries of Scotland. Her work resides in several private, corporate, and museum collections including the Weisman Art Museum, Hillstrom Museum of Art, Target Corporation, Nordstrom Corporation, BMO Harris Bank, LPM Corporation, and Allina Health Center.
Kolman & Reeb Gallery hosted Betsy's Project Space exhibition March 19 through May 7, 2022.
James Holmberg
James Holmberg chose to use his Kolman & Reeb Gallery Project Space grant to investigate loss, memory, and transformation through a painting process of accumulation and erasure captured with video and experienced via an app, entitled, "Absence Show," which is available in the App Store or on Google Play. By so doing, James has married his two interests, art and technology, and has sent his artistic practice in a new direction and taken the next step in his artistic evolution. "The grant has completely given me the freedom to explore some of the conceptual ideas I've been grappling with for a long time," he says.
James' exhibition, Absence, includes five canvases that James painted, scraped off, washed with mineral spirits, and painted again 12 times, while he was recording the process on video. The ghost paintings on each of the five canvases can only be viewed by downloading the app, "Absence Show," via a smartphone or tablet. The app reveals the images attached to each canvas, images that now only exist in the cloud.
While the canvases retain the ghostly memories of previous paintings, generating a sense of loss and impermanence with each iteration, they're also digital assets through which memories remain intact. The exhibition also includes a pedestal on which James troweled all of the paint or content from the canvases. "The pedestal is a collective of all the canvases and paint that was used. It's a sculpture." 
"I'm questioning the importance of an image, of a painting, at a time when we're mostly sharing images via cell phones, which in turn brings up questions about the numbing abundance of imagery. The work also investigates feelings of creative loss, which is uncomfortable and challenging for me," he adds. "The real core of the show and project is about absence and presence and transition, and the ability to let go."
James is a graduate of the Minneapolis College of Art and Design where he remains both a mentor and Alumni Board member. He is well known as an abstract painter and long-time artist with Circa Gallery in Minneapolis, and he has had two shows at the Minneapolis Institute of Art.
Along with his successful visual art practice, James is co-founder of Kinetic Legacy and partner and principal designer at Kinetic Contemporary, the interior design and art consulting division of Kinetic Design Build. James has had a long career in creating physical and conceptual structures that allow a space to do its job most efficiently. Whether it's designing floor layouts that use color and shape to guide customers through major department stores, building functional closets and storage areas out of the formerly unused nooks and crannies in a client's home or conceiving of a digital platform to house stories and memories that would otherwise be lost to time, James understands how to create structures that are multidimensional, intuitive, and approachable.
Kolman & Reeb Gallery hosted James' Project Space exhibition September 11 through October 30, 2021.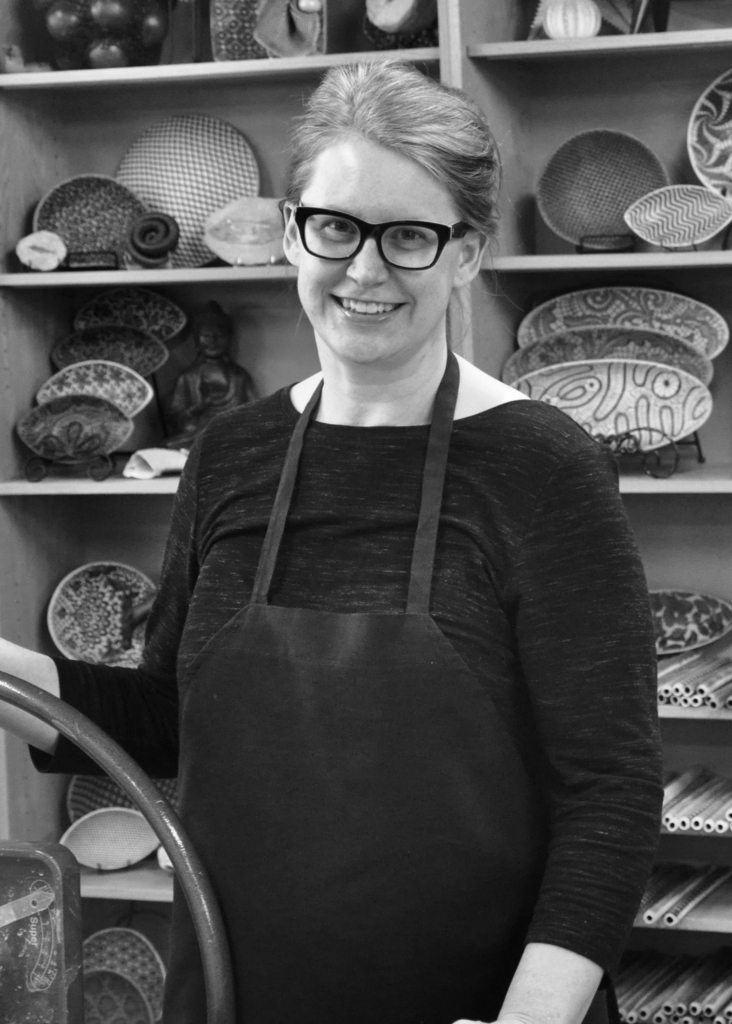 Kelly Jean Ohl
Kelly Jean's creates intricately carved ceramic artworks that are engaging because the viewer is often able to touch and pick up her objects resulting in an intimate and sensory experience. Kelly Jean will use her grant to investigate enlarging the scale of her artworks to give her the opportunity to create more dramatic interactions with her audience.
Logistically, the physical properties of the clay come into play when making larger sculptural forms. The grant will enable her to take time to research new clay bodies, test clay wall thicknesses, and tensile strength. Kelly Jean will purchase a new electric kiln that will accommodate the larger clay objects she hopes to create.
Kelly Jean will also utilize the time to experiment and explore the scale, size, and installation of her ceramic art. Kelly Jean envisions making larger sculptural objects, wall installations, and a large mobile of 300 specimen/rattle/organic forms, loosely based on her spherical ceramic balls and rattles. This mobile will hang from Kolman & Pryor Gallery's ceiling on heavy monofilament thread. This will be, for her, a segue from her current work into the larger forms. 
Kelly Jean received a Bachelor's Degree in both Theatre and Art, as well as a Master of Arts degree with an emphasis in ceramics from Minnesota State University.  She also earned a Master of Fine Arts from the University of Michigan. She taught foundation art courses at Winona State University for three years. Her work has been featured and sold in over 70 galleries across 25 states. It is also in private collections in all 50 states and internationally. Kelly Jean's ceramic work can also be found in public and corporate collections in the US and around the world.
Kolman & Reeb Gallery will host Kelly Jean's Project Space exhibition October 28, 2023 through January 6, 2024.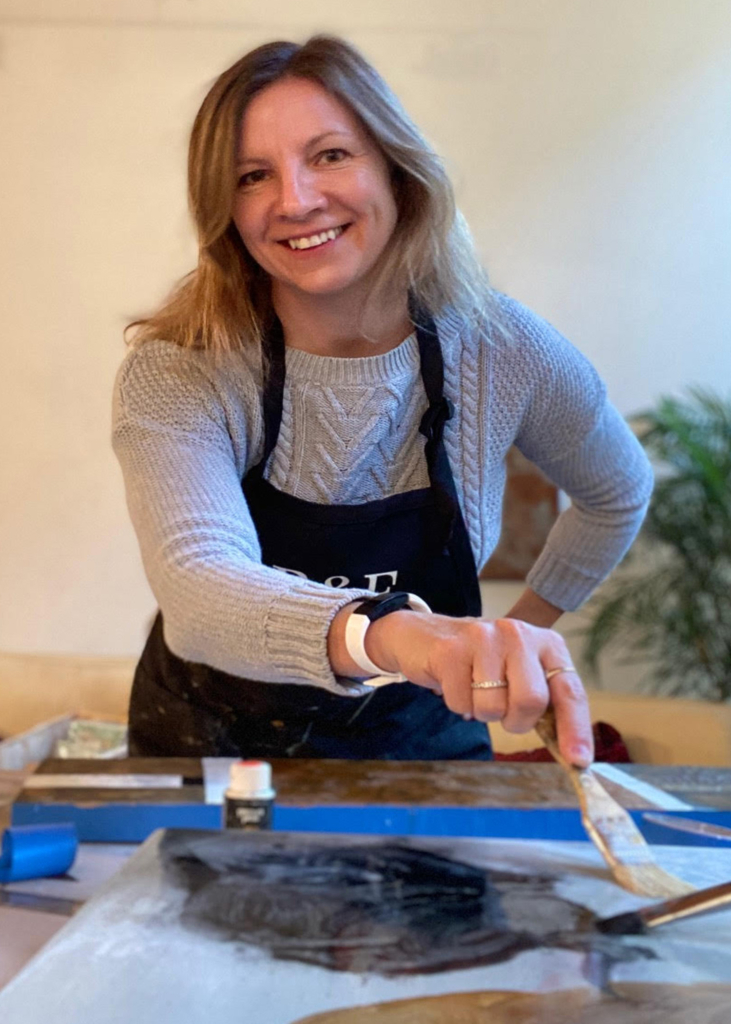 Jodi Reeb
The focus of Jodi Reeb's artwork has always been about the beauty of nature and finding inspiration from nature's extraordinary colors, light, and shapes. Although primarily a painter, Jodi has recently begun creating sculptures that reflect some of the shapes, lines, and textures she finds in nature. Her Project Space grant has allowed her to explore new materials and new spaces in which to create free-form assemblages and sculptures that explore the qualities of nature that feeds her with artistic creativity.
For her Project Space exhibition, Emergence, Jodi has filled the gallery with  a series of sculptures and site-specific installations. Jodi originally began working with the concepts she explores in Emergence during a workshop she attended four years ago, where she'd construct a temporary installation, then tear it down, every morning and afternoon. "I became intrigued with the idea of place and site-specific artworks, and ideas about economy of means as I worked through each installation using materials such as wire, tape, string, and newsprint," she says. "I also became interested in the idea of the three-dimensional line, mark-making objects, and creating shadows on the wall. The Project Space grant has allowed me to take time out of my schedule to fully experiment with these ideas and bring them to fruition."
For her show, Jodi has created sculptures and site-specific art installations throughout the gallery that depict organic forms found in nature. In this way she seeks to experiment with new materials that are wall pieces and artworks suspended from the ceiling and on the floor. She has used materials that have the ability to mimic nature such as tubing, tape, wax, and wire that have been transformed into works that resemble branches or seed-pods.
Jodi has been a full-time artist and teacher for over 20 years.  She has taught printmaking, acrylic and encaustic painting as well as book arts. She is a CORE instructor for R&F Handmade Paints and is a GOLDEN Acrylic Paints Artist Educator. Jodi's artwork has been shown nationally and is in many private and corporate collections including Target Corporation, United Health Care Group, Hilton Hotel in Minneapolis, and Wells Fargo Mortgage in Minneapolis. She was the recipient of a Minnesota State Arts Board Artist Initiative Grant in 2018.  Jodi graduated from the Minneapolis College of Art & Design (MCAD) where she instructed printmaking for almost a decade.
Kolman & Reeb Gallery hosted Jodi's Project Space Exhibition August 27 through October 29, 2022.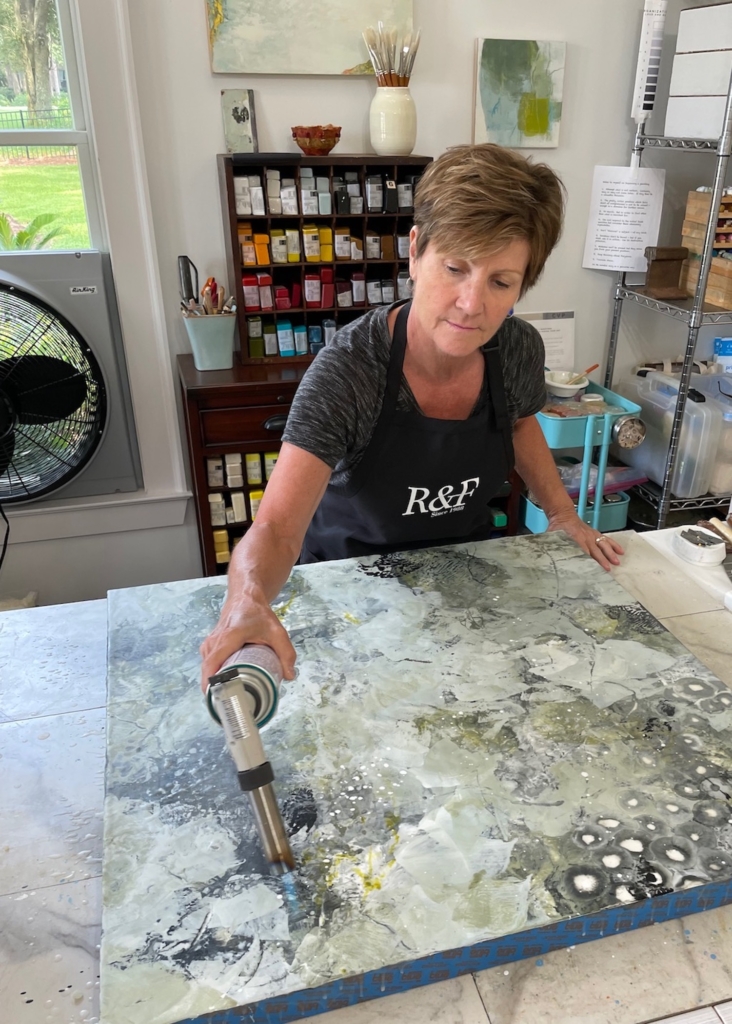 Julie Snidle
For years, Julie has been fascinated by the color, shape, and texture of Xanthoria parietina. The bright yellow-orange lichen that cling to the grey rocks along Minnesota's North Shore and the East and West Coasts are, to Julie, some of the most beautiful. For her project, Julie sought to learn more about these amazing organisms and to create  abstract paintings and install them in the Kolman & Reeb Project Space as an exhibition. In addition to the paintings, Julie envisions this exhibit as an opportunity to introduce the viewer to some basic lichen biology as well as an introduction to the encaustic process.
The motivation for the exhibition, Artistic Lichens, came to Julie while she was attending an encaustic conference on Cape Cod. "I'd walk out onto a nearby seawall, which was comprised of gray boulders encrusted with bright, yellow-orange lichens, Xanthoria parientina," she recalls. "I couldn't stop looking at them. I knew I had to create a new body of work inspired by those beautiful lichens."
The Kolman & Reeb Gallery Project Space Grant made it possible for Julie to paint 51 abstract encaustic artworks of different sizes: "A whole gallery of paintings that celebrates these fascinating organisms," she says. "Even though I've done a lot of research on lichens the paintings are not scientifically accurate. They're not biological studies. They're abstracted interpretations." Encaustic, or beeswax, she adds, "has a wonderful malleability that adds multi-dimensionality to the paintings. The series has allowed me to explore new and unusual methods to achieve the colors, textures, and shapes I've appreciated for so long."
Julie concludes the Project Space Grant has "opened a pathway for me to explore the idea of abstracting nature. I see something every day that catches my eye, a color combination, a play of light and shadow, an unusual plant. Through this grant, and the making of this work, I'm now comfortable with the idea of abstracting those visual surprises. I hope visitors to the gallery delight in what I've achieved."
With a degree in education, Julie taught professionally in the classroom and was a corporate training administrator in Dallas, Texas, before following her passion for art and painting. A self-taught artist, Julie is a Core Teaching Artist for R&F Handmade Paints. Julie has taught at the International Encaustic Conference held annually in Provincetown, Massachusetts, and she continues to teach workshops in her studio and across the country. Julie's work appears in numerous galleries and in private collections throughout the United States.
Kolman & Reeb Gallery hosted Julie's Project Space exhibition June 11 through August 6, 2022.